Join Our Team
We offer a competitive salary and comprehensive benefit packages including paid time off, 401(k) matching retirement plan, health insurance and educational assistance.
Teller Full-Time (sheridan wy)
Experience: 6 months to 2 years of similar or related experience, including preparatory experience. Cash handling and customer service experience is strongly preferred.

Education/Certifications/Licenses: High school education or GED

Wage/Salary: Based on experience
Major Duties and Responsibilities

• Complies with all bank policies and regulations
• Receives checks and cash for deposit or cashing, verifies amount, and examines checks for endorsements, signatures and date issued
• Processes withdrawals, transfers, general ledger transactions, wire transactions, credit card transactions, stop payment requests, check orders, customer statements, and research requests
• Assists customers with Online banking
• Enter customer transactions into computer for record-keeping and issue customer receipts
• Prepare and process daily checks
• Roll and wrap coin
• Count coin for the vault balancing
• Balance currency, coin, checks, and all teller transactions and compare totals to computer totals
• Prepares currency and fills out cash slip for selling cash to vault teller
• Reports all cash off-ages to Teller Supervisor
• Sales/cross sell products; explain, promote, and sell products and services such as debit cards and cashier's checks
• Process night depository transactions
• Process address changes, file documents, mail notices, send/receive faxes, answer telephone calls, process e-mail statement requests
• Process loan payments
• Scan and verify deposit documents scanning software
• Process daily checks through Branch Capture
• Issue and activate PIN for ATM and Debit Cards
• Provide customers access to safe deposit boxes
• Provide phone backup

Must provide exceptional customer service and comply with all company policies and procedures, applicable laws and regulations, including but not limited to, the Bank Secrecy Act, the Patriot Act, and the Office of Foreign Assets Control.

Please send resume and a completed application to:
Wendy Gnehm, AVP

Human Resources Manager
We are an Equal Opportunity Employer /Affirmative Action Employer providing equal employment opportunities to all qualified applications regardless of race, color, religion, sex, sexual orientation, gender identity, national origin, protected veteran or disabled status.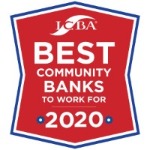 This link leads to the machine-readable files that are made available in response to the federal Transparency in Coverage Rule and includes negotiated service rates and out-of-network allowed amounts between health plans and healthcare providers. The machine-readable files are formatted to allow researchers, regulators, and application developers to more easily access and analyze data.