Community Commitment Program
For Non-Profit & Charitable Organizations
First Federal Bank & Trust is giving away $1,000 per week by random draw, every week in 2023 to a 501(c)(3) or qualified tax- exempt organization in Sheridan and Yellowstone counties.
If First Federal has donated to your organization within the past three years, you are automatically entered into the drawing. Please note that eligibility is at First Federal's discretion.

---
Service. Lead. Inspire.
First Federal Bank & Trust's SLI Committee aims to be a central point of contact in the communities we serve for organizations that rely on volunteer support. Committee members coordinate volunteer opportunities for staff and serve as liaisons between the organizations and employer.
If your organization is in need of volunteers, please fill out and submit the form below to slicommittee@efirstfederal.com.
Supporting Our Communities

First Federal Bank & Trust believes in a thriving community. It's why we've focused on our customers since 1935. We know that values matter - in business, in life and in community. Our mission will always be to support and improve the lives of our staff, customers and community.
Why We're a Mutual Bank

Being a mutual bank gives us the unique opportunity to give back. We don't pay stockholders - we pay our community. When you bank with us, we reinvest your funds right back into the places we call home. We're one of just three mutual banks in Montana and Wyoming.
We understand the success of our bank is dependent upon the success of our clients and our community.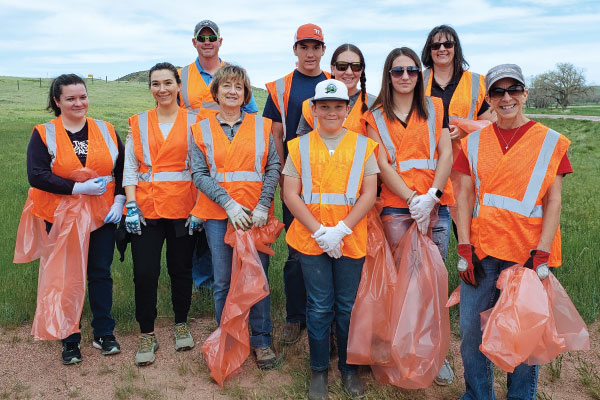 2023 COMMUNITY COMMITMENT WINNERS
January 2023
Native American Development Corporation
Best of the Rest Steer Riding
Calvary Chapel Big Sky
The Food Group
St. Vincent Foundation / SCL Health
Sheridan County School District #3
Special Olympics - Yellowstone Valley
Sheridan Speedway
employee anniversary donations
In honor of each employee's work anniversary, First Federal donates $250 to a non-profit of the employee's choice.
participation in non-profit events
First Federal also provides $100 per year for each employee to use towards registrations fees for non-profit organization events.
HONESTY & INTEGRITY above all else
TRUST & RESPECT built on fairness
RESPONSIBILITY to use our resources for the greater good
EXCELLENCE through lifelong learning, accountability, hard work and continuous improvement
POSITIVE, CAN-DO ATTITUDE to support team morale and provide exceptional internal and external customer service
RESILIENCE to learn from our challenges and bounce back from adversity
TEAMWORK to accomplish so much more than we can individually
COURAGE & KINDNESS to do the right things while being considerate to others
OPEN, HONEST COMMUNICATIONS to make it all happen